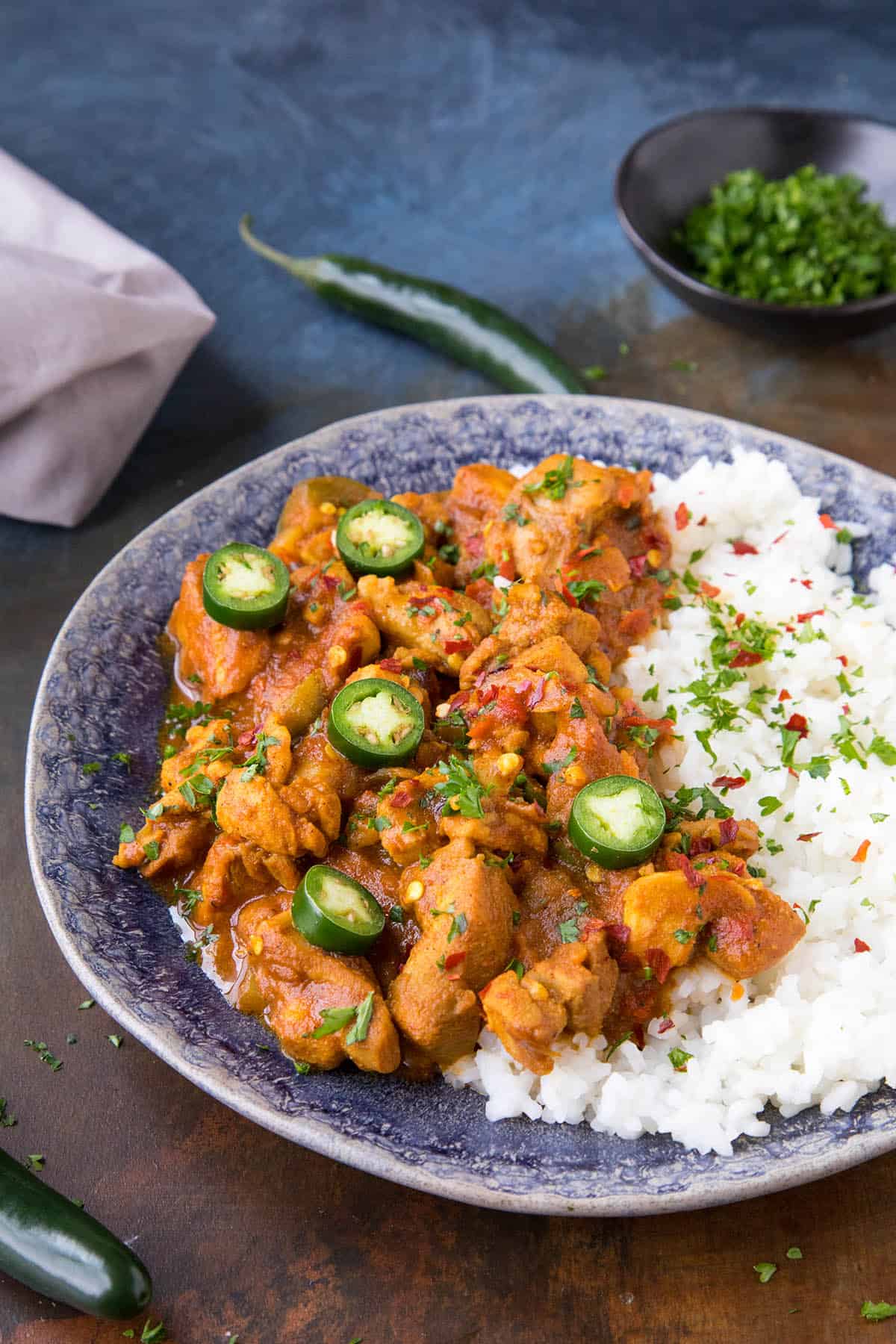 Ingredients:
Method:
Deseed red chilies and add them to a bowl. Pour 3 tbsps vinegar and 3 to 4 tbsps hot water. Set aside.
Meanwhile prepare the spice powder by adding coriander seeds, cumin, pepper, mustard seeds, cinnamon, cloves and green cardamoms to a blender jar.

Make a very fine powder.

Add chopped ginger garlic and soaked red chilies to the blender. Also add up the vinegar in which the red chilies were soaked. I added in batches and used up the entire vinegar & water mixture.

Blend to a very smooth paste.

Add the paste to cut chicken pieces. Sprinkle some salt and turmeric. Marinate, cover and set aside. If you like the chicken to absorb all the flavors then refrigerate overnight.
Make Vindaloo Curry:

Pout oil to a pan and heat it. When the oil turns hot, add the onions (fine chopped or ground).
Fry the onions until golden to light brown. Then stir in 1 tbsp vinegar & sugar.
Add marinated chicken and saute for 3 to 5 mins on a medium flame. Garlic and ginger are raw here so saute the chicken well.
Add tomato puree (optional) and mix.
Saute again for another 2 to 3 mins.
If your chicken lets out lot of moisture then skip adding water.
Mix well. Cover and cook on a medium to low heat until the chicken is fully cooked.
If your chicken vindaloo is runny, evaporate the excess moisture by cooking further. It thickens a bit and also turns to a dark color upon cooling.
Serve chicken vindaloo with plain rice or with naan or paratha.
Mar 15, 2022

Category:

Recipes
Comments: 0