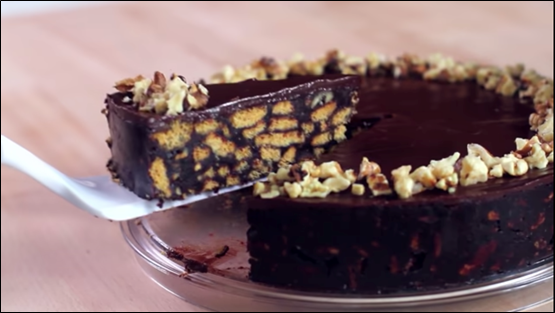 No-Bake Biscolata Biscuit Cake Recipe
Ingredients:
For Chocolate Syrup:
1 cup Huletts White sugar
1/2 cup Nestle Cocoa Powder

1 cup (240 ml) water

2/3 cup (150g) butter
Chocolate Ganache:
½ cup (120 g) whipping cream

4 oz (120g) bittersweet chocolate, chopped
Method:
Break all the Biscolata Duomax Hazelnut biscuits into small pieces into a large bowl.

Heat a non-stick pan over medium high heat and toast walnuts and almonds for about 5 minutes, stirring frequently to toast evenly. Add toasted nuts over the biscuits.

Prepare the chocolate syrup. In a medium saucepan add sugar and cocoa powder. Stir to combine and gradually add water, while stirring to combine well. Add the butter and place over medium heat. Bring to boil for about 7-8 minutes stirring constantly. Remove from heat and add vanilla extract. Set aside to cool slightly for about 10-15 minutes.

Pour the syrup over the biscuits and nuts and combine well using a large spatula or spoon.

Transfer the mixture into a 9 inch (23 cm) non-stick round cake ware or use a 9 inch (23 cm) springform pan, bottom lined with parchment paper.

Press well using the back of the spoon or an offset spatula.

Cover and refrigerate for about 30 minutes to 1 hr before preparing the chocolate ganache.

Prepare Chocolate Ganache. Place cream into a small saucepan and heat until just begins to boil.

Pour hot cream over the chopped chocolate and let sit for 1 minute. Stir until smooth.

Pour ganache over the chocolate biscuit cake and refrigerate to set for about 3-4 hours or overnight before serving.

Decorate with toasted nuts and Biscolata Mood biscuits, cut into slices and serve.
Feb 06, 2022

Category:

Recipes
Comments: 0