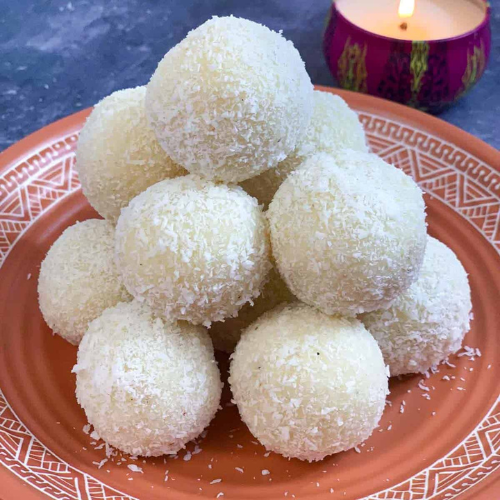 India Bazaar understands the need of its customers to get the best recipes, that is why we have curated a list of recipes that you will love! Click here to check out our recipe page.
The festive season of Navratri is about to begin and with the arrival of this auspicious occasion arrives the time to give up on those favourite dishes of yours and fast for the upcoming nine days.
However, Navratri fasting is not just about starving. Instead, there are several indigenous cuisines which you can budge in during the holy days - from kuttu ke aate ke  pakode to sabudana kheer, makhana kheer and not to miss those special vrat wale aaloo
India Bazaar brings to you a mouth-watering recipe of coconut laddoo in quite easy steps to give a sweet start to this auspicious occasion.
Coconut Ladoo (Coconut Sweetmeat Balls)
Ingredients:
Desiccated coconut/ nariyal ka burada,
cardamom seeds crushed into powder,
ghee.
Method:
1. In a pan, take one tablespoon of ghee along with one and a half cup of fine coconut powder and stir and saute at a low flame for 3-4 minutes.
2. Add 3/4 cup of condensed milk and 1/2 teaspoon of cardamom powder to the mixture and mix it well.
3. Stir the mixture continuously as you cook it on a low flame till it gets thick. Turn off the flame after 7-8 minutes.
4. Now pour the mixture in a big bowl and allow it cool. After that make small balls (laddoo) out of the mixtures. It is advisable to apply some ghee on your palms before making laddoo.
5. Roll the balls in desiccated coconut.
Note: If the mixture is loose and you are finding it difficult to make laddoos, heat the mixture again for a few minutes.
Credits : https://english.newsnationtv.com
Sep 16, 2022

Category:

Recipes
Comments: 0