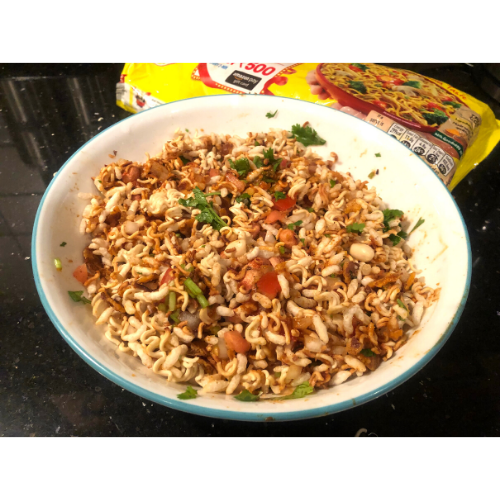 Lets get started…
Serves : 4
Ingredients:
For 10 Minutes Maggi Bhel:
To Be Mixed Into A Paste:
For The Garnish:
Method:
To Make 10 Minutes Maggi Bhel, lightly crush the maggi noodles into small pieces.
Dry roast the coarsely crushed Maggi noodles in a broad non-stick pan on a medium flame for 10 minutes. Cool completely.
Transfer into a deep bowl, add all other ingredients including the prepared paste and toss well.
Serve the 10 Minutes Maggi Bhel immediately garnished with Sev and Coriander.
-----
If you are looking for groceries near you, Indian grocery delivery, Indian grocery store in Johannesburg as well as Indian online grocery store in South Africa, India Bazaar has you covered! We have products from the North of India as well as the South of India. You do not have to venture all the way to India to indulge in the wonderful delicacies and grocery products! 
We also specialize in a Whatsapp Ordering delivery system, where you can send us your Indian grocery list, and we will convert your groceries into an Indian grocery items list pdf, which will help you stay up to date with your grocery shopping! You do not need to rush to your nearest Indian grocery store, because India Bazaar will deliver all of your needs to your doorstep! 
We aim to be the best online Indian grocery in Johannesburg, Pretoria as well as the whole of South Africa!
----
To see more recipes click HERE 
To see our informative blogs click HERE 
----
Feb 15, 2022

Category:

Recipes
Comments: 0