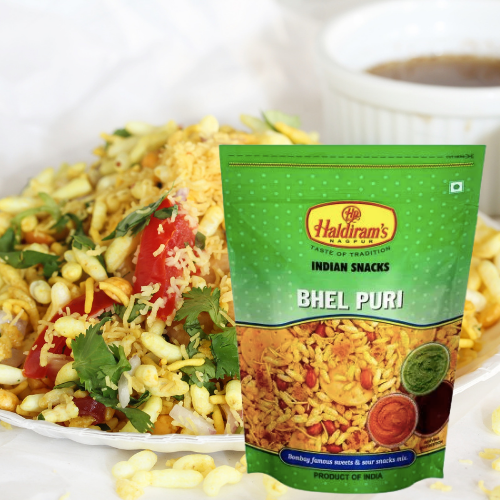 India Bazaar understands the need of its customers to get the best recipes, that is why we have curated a list of recipes that you will love!
Click here to check out our recipe page
. We have an exclusive
Milk Barfi
recipe that you need to try! Read the recipe below.
------
-
Bombay Famous Sweets & Sour Snacks Mix.
A generous mix of crispy sev, bhel, and potato bits, Haldiram's Bhel Puri is a lip-smacking take on India's beloved street food.
Perfect on its own or whipped up with some chopped fresh onions and tomatoes, the authentic Mumbai style.

Packaged Ingredients: Puffed Rice (16%), Edible Vegetable Oil, Split Chick Peas (10%), Peanuts (8%), Chick Peas Flour (8%), Wheat Flour (8%), Tapary Beans Flour, Rice Flakes (4%), Black Bengal Gram Flakes (3%), Salt, Turmeric, Cumin, Coriander Powder, Curry Leaves, Red Chilli, Black Salt, Acidity Regulator & Antioxidant ( E 330), Dry Ginger Powder, Black Pepper, Ajwain, Cardamom, Clove, Cinnamon, Nutmeg, Bay Leaf & Asafoetida Contains Peanut & Gluten May Contain Other Tree Nuts & Sesame Seed.
Our Version of Haldiram Bhel Puri:
Do try this out when you have surprise guests at your place and you need to serve them some good snack..!!
It is a very simple preparation:
Preparation Time:- 5 mins |  Serves:- 3-4 people
INGREDIENTS:
1 packet of Haldiram's Bhel Puri
1 medium Onion finely chopped
1 medium Tomato finely chopped
1/4 cup Coriander leaves (Dhaniya Patta) finely chopped
1 green chilli finely chopped (optional)
1 medium sized potato boiled and finely chopped (optional)
PREPARATION:
Open the Haldiram's Bhel Puri packet and empty the contents in a big mixing bowl. The contents will include a packet with sauces and one other with sev. Separate these packets from the other raw material.
Break the Puris in the contents to smaller pieces.
Add all the sauces provided in the contents and mix properly. Toss the whole thing to mix.
Now add the chopped onions, tomatoes, green chilli, coriander leaves and potato and mix thoroughly.
Lastly add the sev and mix lightly. Voila its done..!!
May 03, 2022

Category:

Recipes
Comments: 0