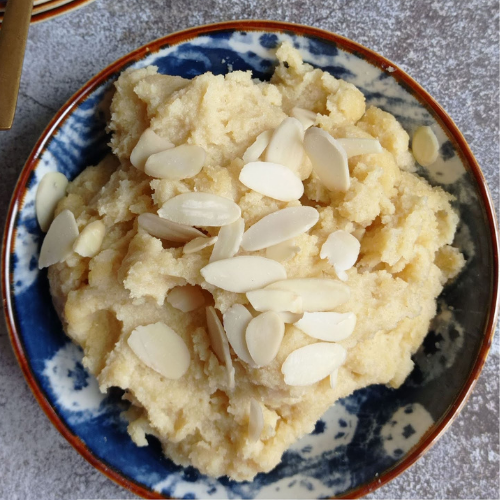 India Bazaar understands the need of its customers to get the best recipes, that is why we have curated a list of recipes that you will love!
Click here to check out our recipe page
. We have an exclusive
Milk Barfi
recipe that you need to try! Read the recipe below.
------
-

Sooji is a dessert or sweet treat made from semolina or tasty wheat. It is made by frying semolina in sweet spice infused butter then simmering on low heat to steam the semolina grains. It has a thick texture. Suji can be served on it's own, but popular serving suggestions include drizzling with cream and topping with slivered almonds.
This post features a step by step guide how to make suji followed by the recipe at the bottom of the post. 
Cooking Time : 25 Min
INGREDIENTS
INSTRUCTIONS
Heat a heavy-based pan on medium heat. Melt the butter. Once melted add the semolina. Fry until the semolina browns slightly. Take care not to burn the semolina - use a spatula to stir this will allow even browning.
2. Add the cardamom powder and sugar and raisins then lower the heat before adding milk. Allow the suji to cook on low heat so that the milk does not boil too quickly.
3. Once the liquid is absorbed into the semolina you will see a mass staring to form, simply use a spatula to break this up into smaller pieces. For a richer Wedding Suji texture add liquid cream (not whipped cream) after the milk dehydrates.
Once the cream is absorbed by the Suji you can remove from stove. If you prefer Suji less dry then add additional milk or cream for a more rich moist Suji texture.
Remove from stove. Serve warm or store in the refrigerator until needed.
Credits : https://www.foodlikeammausedtomakeit.info
May 03, 2022

Category:

Recipes
Comments: 0