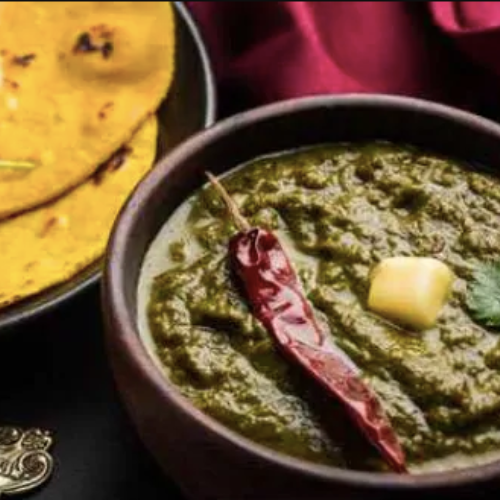 India Bazaar understands the need of its customers to get the best recipes, that is why we have curated a list of recipes that you will love!
Click here to check out our recipe page
. We have an exclusive
 Sarson da saag with makki di roti recipe
 that you need to try! Read the recipe below.
------
-
SARSON KA SAAG RECIPE ( TEMPERED MUSTARD LEAVES CURRY RECIPE )
Ingredients :
Method:
Heat a small pan on medium heat. Once the pan is hot add ghee to it and then add chopped onion. Saute for few seconds and then add the chopped ginger and garlic cloves.
Cook until the onions and garlic turn light golden brown. Add the chopped green chillis and chopped tomatoes.
Add all the dry spices and salt. Cook until the tomatoes become mushy and releases oil.
Add a can of Mitchell's Sarson Ka Saag.
Cook well until 4 - 5 minutes.
Your Sarson Da Saag (Tempered Mustard Leaves Curry) is ready to serve. 
Serve sarson ka saag with makki roti, sliced onion, jaggery and white butter.
MAKKI ROTI RECIPE ( CORNMEAL FLOUR FLATBREADS RECIPE)
If you're a fan of flatbreads, you need to try this Makki Ki Roti recipe. This corn-based unleavened flatbreads (cornmeal flour flatbreads) are delicious, slightly sweet from the maize flour or cornmeal, and perfect for a winter lunch or dinner, especially when served with Sarson Ka Saag.
While maize is a term for corn, please note that makki ka atta is different than what we know as "cornflour" in India. What we call cornflour is known as "cornstarch" in different parts of the world, while makki ka atta is finely ground cornmeal.
Ingredients :
Method:
In a mixing bowl, take 2 cups maize flour or fine cornmeal (200 grams), 1 teaspoon carom seeds (ajwain) and salt to taste. Mix everything together with a spoon.
Heat 1 cup water in a separate pan till it comes to a boil. Add this hot water to the flour mixture.
Mix with a spoon. Cover and keep aside till the dough cools enough to handle.
When the mixture is cool enough to handle, begin to knead to a smooth yet firm dough. 
If the dough looks or feels dry, then add some warm water. If the dough feels sticky, then add a few tablespoons of maize flour.
As you can see in the photo below, the final dough will have some fine cracks present. This is to be expected.
Make medium sized balls of dough, shaping them into a neat balls and flattening them slightly with your palm.
Sprinkle some maize flour on the rolling board. Place the dough ball on the rolling board. Then sprinkle some maize flour on the dough ball also.
Begin to gently roll with a rolling pin (belan). Sprinkle some flour. Now with the rolling pin (belan), slowly roll.
Roll into small- to medium-sized rounds. They should be roughly the size of a phulka or chapati, but not very thin. The roti should not break if you handle them carefully. If the rolling pin is sticking, add more flour as required.
Now spread about 1 to 2 teaspoons of ghee or a neutral flavored oil on a hot tawa or skillet or frying pan. Cook the roti on medium to medium-high heat.
Gently place the makki di roti on the tawa. If there is a crack in the roti dough, then gently pat that portion with a few drops of water to seal it shut. 
When one side is a little browned, flip the makki roti with the help of a spatula.
When the other side gets browned, flip again. Flip for a couple of times till the makki di roti is well browned and cooked from all sides. Drizzle a bit of ghee on the sides whilst cooking the roti.
Serve the makki ki roti hot with saag and jaggery cubes. We also like to add some white butter on top of the makki di roti while serving.
Jun 23, 2022

Category:

Recipes
Comments: 0