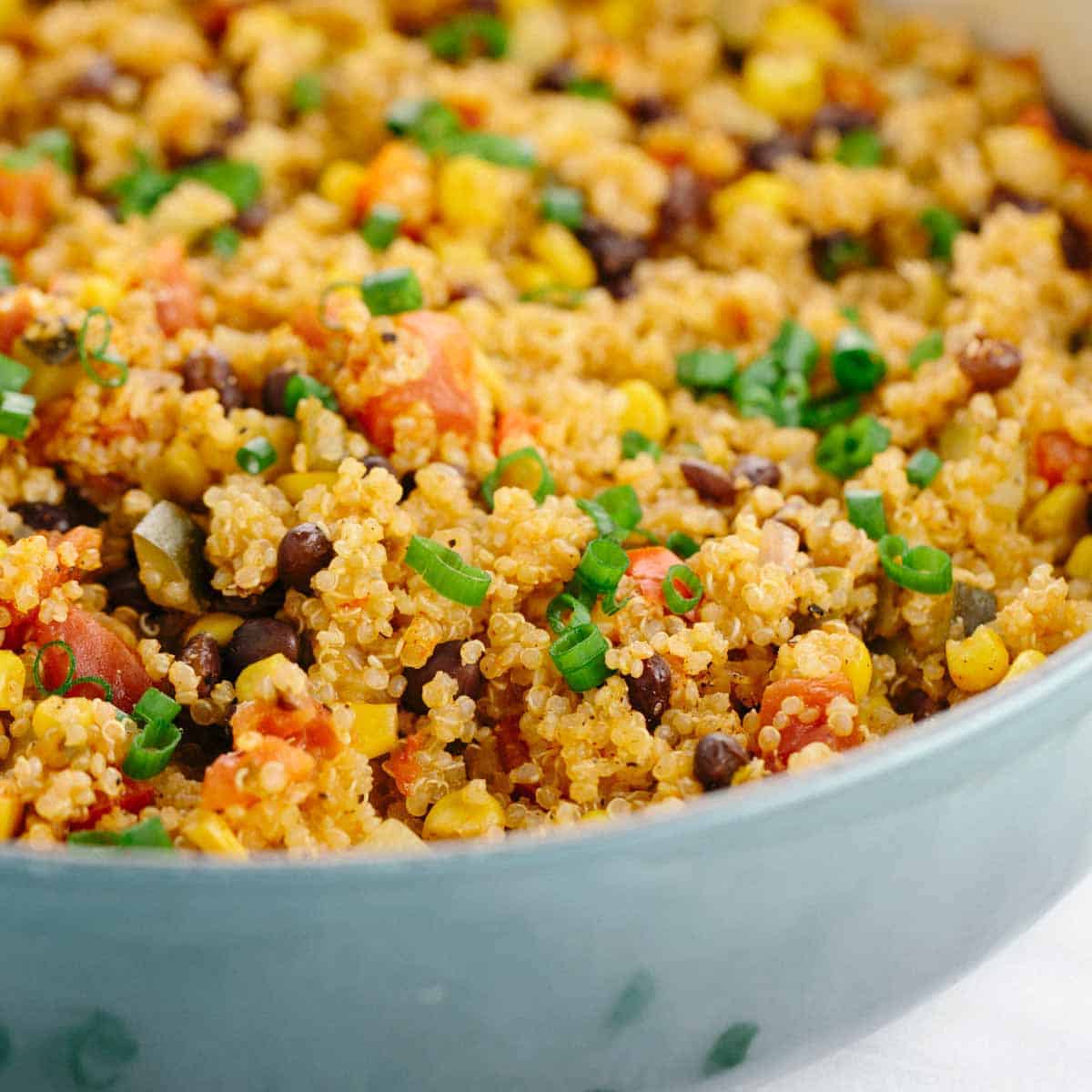 Spiced Vegetable Quinoa Bowl 
Ingredients:
For the Quinoa:
1 cup quinoa, rinsed and drained
2 cups water
1/2 teaspoon salt
For the Spiced Vegetables:
2 tablespoons vegetable oil
1 onion, finely chopped
2 cloves garlic, minced
1-inch piece of ginger, minced
1 green bell pepper, diced
1 red bell pepper, diced
1 carrot, diced
1 cup frozen peas
1/2 teaspoon red chili powder (adjust to your spice preference) 
Salt to taste
Instructions:
Prepare the Quinoa:
In a medium saucepan, combine the rinsed quinoa, water, and salt.

Bring to a boil over high heat, then reduce the heat to low, cover, and simmer for 15-20 minutes, or until the quinoa is cooked and the water is absorbed.

Remove from heat, fluff the quinoa with a fork, and cover to keep warm.
Prepare the Spiced Vegetables:
Heat the vegetable oil in a large skillet or pan over medium heat.

Add the chopped onion, garlic, and ginger. Sauté for 2-3 minutes until the onion becomes translucent and fragrant.

Add the diced bell peppers and carrot. Sauté for another 5-7 minutes until the vegetables begin to soften.

Stir in the frozen peas and cook for an additional 2 minutes until they are heated through.

Add the ground cumin, ground coriander, turmeric, red chili powder, salt, and black pepper. Stir well to coat the vegetables with the spices and cook for another 2 minutes.
Combine the Quinoa and Spiced Vegetables:
Add the cooked quinoa to the pan with the spiced vegetables. Stir well to combine and let it cook for an additional 2-3 minutes to heat through.
Serve:
Spoon the spiced vegetable quinoa into bowls.

Garnish with freshly chopped cilantro leaves and serve with lemon wedges on the side for an extra burst of flavor.
Enjoy your homemade Spiced Vegetable Quinoa Bowl from ingredients available at India Bazaar! It's a nutritious and flavorful meal that's perfect for lunch or dinner.
Oct 02, 2023

Category:

Recipes
Comments: 0