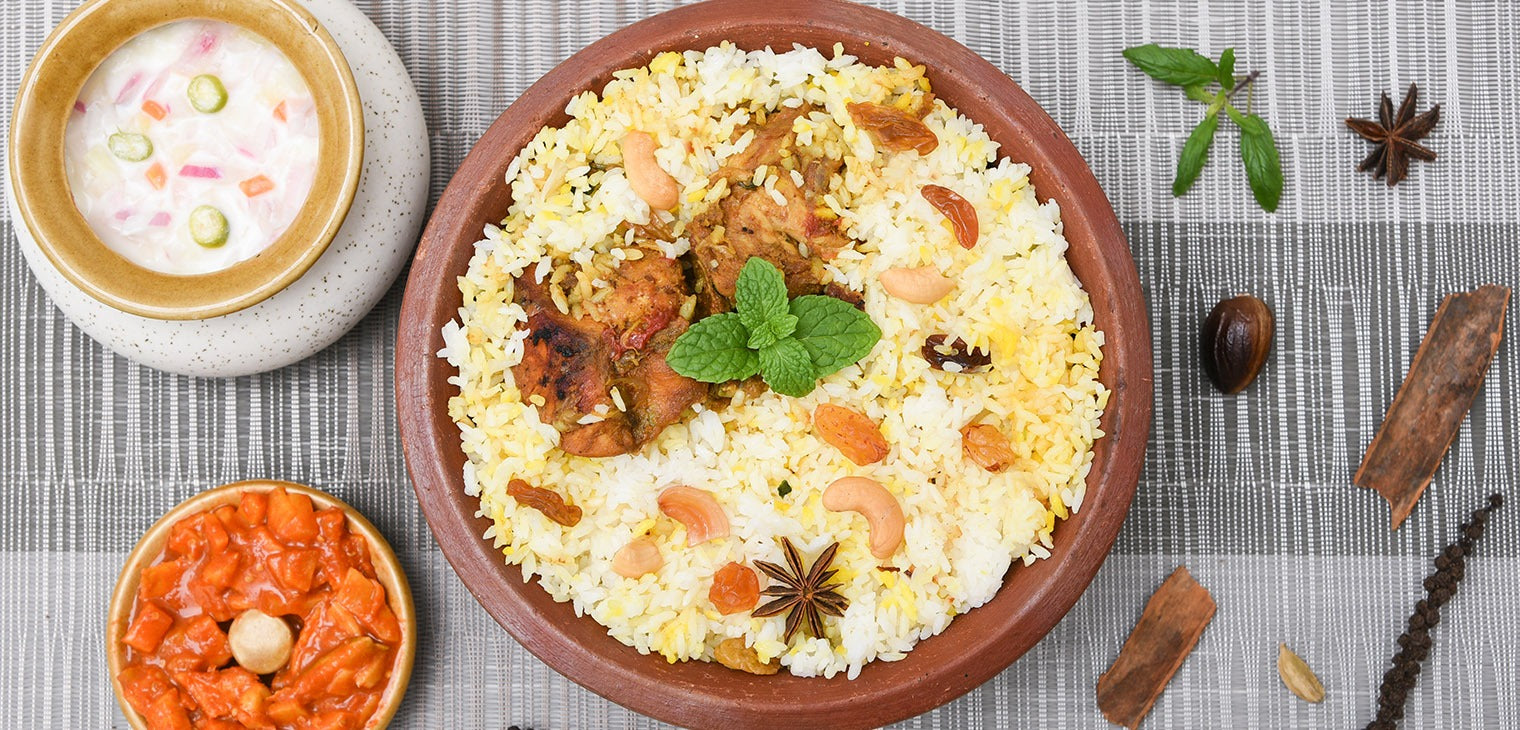 Hyderabadi Dum Biryani
India is a vast country with a cuisine that offers something different for everyone. While South India is known for its exquisite vegetarian cuisine, the influence of ancient trade routes and the northern influx has given this part of India some amazing non-vegetarian fare. Let's try out, one of the most legendary non-vegetarian dishes from South India, the Hyderabadi Dum Biryani.
Hyderabadi Dum Biryani - Fragrant rice layered with succulent chicken
Ingredients
Marination
Chicken Thighs - 500 gms

Yoghurt - 1 cup

Black Peppercorns -10

Whole Cloves - 6

Cardamom Pods - 5

Cinnamon Sticks - 2

Whole Star Anise - 2

Kala Jeera (Black Cumin) - ⅓ tsp

Fresh Cilantro - 1 bunch

Fresh Mint leaves - 1 bunch

Lemon Juice - 2 tsp

Ginger Garlic Paste - 2 tsp

Chile Powder - 2 tsp

Biryani Masala - 1 tsp

Ground Turmeric - ¼ tsp
Biryani Rice:
Basmati Rice - 2 ⅓ cups

Water - 3 ½ cups

Bay Leaves - 4

Milk - ½ cup

Saffron - 1 pinch

Ghee - ¼ cup

Onions, sliced - 2

Green Chile Peppers, chopped - 2
Directions
Use a spice grinder to ground kala jeera, black peppercorns, cloves, cardamom, cinnamon sticks, and star anise into a fine powder.
In a food processor, combine the cilantro and mint leaves; pulse until the ingredients are roughly chopped.
Take a large mixing bowl and combine the spice powder, cilantro-mint mixture, yoghurt, chile powder, lemon juice, ginger-garlic paste, biryani masala powder, and turmeric. Add the chicken to the bowl and turn to coat the pieces evenly. Allow the food to marinade in the refrigerator for about 2 hours, covered with plastic wrap.
In a saucepan, bring the water and rice to a boil along with 2 bay leaves. Simmer for about five minutes, with heat reduced to medium-low and the lid on until the rice is only partially cooked through but still firm. Drain the water.
In a small bowl, mix the milk and saffron and set aside.
Take a large pot with a tight-fitting lid and melt the ghee over medium-high heat. Add the onions; simmer and stir for 15 minutes, or until they are golden brown. Drain onto paper towels. Turn the heat down to a lower setting. Add the other 2 bay leaves and the chilli peppers to the ghee; heat and stir for 1 to 2 minutes, or until aromatic. Take 1 tablespoon of the ghee out of the pot and set it aside with care.
Add the chicken to the pot after wiping off the excess marinade. Cook for 2 minutes per side over a moderate flame until no longer pink. Spread the drained rice on top. Spread the brown Onions over the rice. And over the rice and onions, drizzle the saved ghee and saffron milk.
Cover the pot with the lid and cook for around 8 mins over high heat. Afterwards, reduce the heat to low and cook for an additional 5 mins. Remove from heat and set aside, covered, for 15 minutes, or until the rice is soft and an instant-read thermometer inserted into the chicken registers 165 degrees F (74 degrees C).
For an authentic taste of Hyderabadi Dum Biryani, look no further than your trusted India Bazaar. Our Aachi Hyderabadi Dum Biryani Masala brings the flavours of Hyderabad straight to your kitchen. Don't miss out.
Jul 23, 2023

Category:

Recipes
Comments: 0