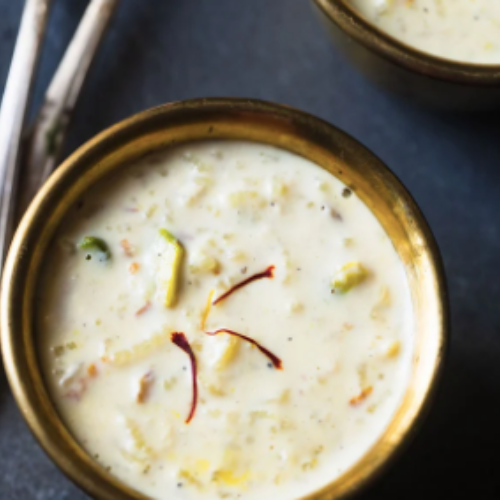 India Bazaar understands the need of its customers to get the best recipes, that is why we have curated a list of recipes that you will love! Click here to check out our recipe page.
The Indian version of a sweet pudding is what we refer to as Kheer. It is basically a milk-based dessert, which has other ingredients, sweetener and flavorings added to it. The most classic version of this dessert is the rich Rice Kheer, where you slow-cook rice grains, whole milk and sugar to perfection. Addition of saffron, nuts, cardamom, etc. is quite subjective when it comes to this typical Kheer Recipe.
India Bazaar brings to you a mouth-watering recipe of rice kheer in quite easy steps below...
Kheer / Payasam Recipe
Ingredients:
1/4 Cup Basmati Rice,
1 Litre Full Fat Milk,
Saffron strands,
5 to 6 tablespoons sugar or raw sugar or jaggery,
½ teaspoon green cardamom powder,
Mixed dry fruits and nuts of your choice,
Kewra water
Method:
1. Rinse the basmati rice a couple of times in fresh water and then soak in enough water for 15 to 20 minutes.
2. While the rice grains are soaking, take milk in a heavy wide pan or saucepan or kadai.
3. Keep the pan on low to medium-low heat. Stir at intervals so that the milk does not burn at the bottom of the pan.
4. Let the milk come to a boil.
5. Take 1 tablespoon milk from the pan in a small bowl. Let the milk become warm. Then, add a few saffron strands to the milk. Keep aside.
6. After the milk begins to boil, drain all the water from the rice and add it to the boiling milk.
7. Mix very well with a spoon.
8. Simmer and cook the rice on low heat. No need to cover the pan when the rice is cooking.
9. Cook the rice grains till they are 50% done or half-done.
10. Then, add sugar as required. You can add raw sugar or white sugar.
Note : If you're using jaggery then only add it after removing the kheer from the stove and when it cools down a little bit.
11. Mix the sugar in the milk.
12. Continue to cook rice on low to medium-low heat. Stir at intervals.
13. Simmer till the rice grains are almost cooked.
14. Then add the green cardamom powder.
15. Add 1 tablespoon each of sliced almonds, chopped cashews and sliced pistachios. You can blanch the almonds, if you prefer or just slice them raw.
You can include various other nuts according to your preferences.
16. Mix well.
17. Then, add the prepared saffron milk.
18. Again mix and continue to cook on low heat till the Rice Kheer thickens and the rice grains have completely cooked.
19. Switch off the heat when the rice grains soften completely. The Kheer will also thicken. Scrape milk solids from the sides of the pan and add to the Kheer.
Make a note that on cooling, Rice Kheer thickens more.
20. Lastly, add 1 tablespoon golden raisins. At this step, you can add 1 tablespoon rose water or kewra water (pandanus water).
Credits : www.vegrecipesofindia.com
Nov 03, 2022

Category:

Recipes
Comments: 0