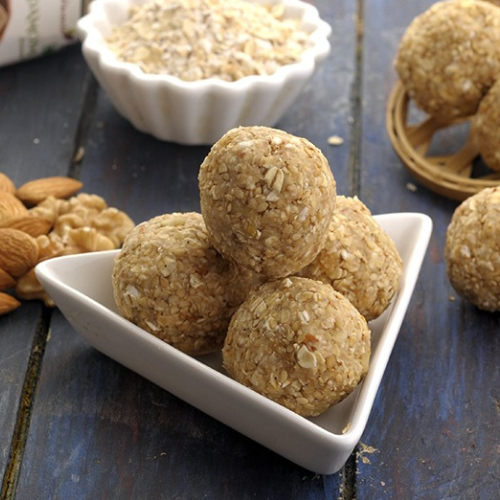 India Bazaar understands the need of its customers to get the best recipes, that is why we have curated a list of recipes that you will love! Click here to check out our recipe page.
This is a healthy Laddu / laddoo recipe made of oats, nuts, and jaggery. There is no added sugar, ghee or oil! These quick protein laddus take less than 15 min to make! These taste yummy and are perfect for weight loss too! 
India Bazaar brings to you a mouth-watering recipe of healthy laddoos in simple steps below...
Protein Balls Recipe
Healthy Laddus made of oats, nuts and dates! These are high in fiber and protein and is a great make-ahead snack! Lets begin.
Ingredients:
1 cup oats flour (roasted),
1 cup mixed nuts (roasted) ,
1/4 tsp. Cardamom powder (preferably from black cardamoms),
a pinch of salt,
Sesame seeds,
Coconut powder,
Sunflower seeds,
Poppy seeds,
Jaggery powder.
Method:
1. Dry roast oats flour for approximately 5 minutes. 
You'll see that the colour turns into a slightly darker brown and also it's going to turn more aromatic.
2. Next add in one cup of roasted mixed nuts. If your nuts are not roasted, you can roast it in a pan for  3 or 5 minutes. Add whatever nuts you have! 
3. Jazz up your protein balls a little more with a tablespoon each of roasted sesame seeds, roasted sunflower seeds and coconut powder.
4. Add in 3/4 cup of jaggery powder.
5. Add a pinch of salt (~1/8th teaspoon).
6. Add 1/4 teaspoon of black cardamom powder.
7. Mix everything together in a grinder. Grind till the jaggery is mixed in well, the nuts ooze out oil and the mixture sticks to the wall of the grinder jar. It should approximately take 1 min.
8. Now we are ready to make laddus!
Use a 2 tbsp measure to make laddus. That makes ~ 12-13 laddus (1.5 inch in diameter)
Credits : www.nupursindiankitchen.com
Nov 15, 2022

Category:

Recipes
Comments: 0