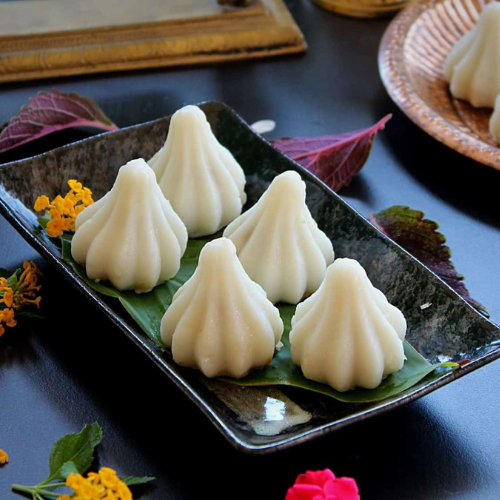 India Bazaar understands the need of its customers to get the best recipes, that is why we have curated a list of recipes that you will love!
Click here to check out our recipe page
. We have an exclusive
 Modak recipe
 for Ganesh Chathurthi special that you need to try! Read the recipe below.
------
-
MODAK ( Sweet Jaggery Dumplings )
Modak are steamed dumplings with an outer rice flour dough and a coconut-jaggery stuffing. These sweet dumplings are also known as Ukadiche Modak in Marathi language.
Total Cooking time : 40 mins
Preparation time : 10 mins
Servings : 5
Ingredients :
For the filling:
1 cup Fine Coconut Powder
1 cup Jaggery
A pinch of Nutmeg Powder
A pinch of Saffron
For the shell:
1 cup water
2 tsp Ghee
1 cup Rice Flour
Method:
Prepare Filling:
1. Heat a pan, add the grated coconut and jaggery.
2. Stir for about five minutes. Add the nutmeg and saffron, mix well.
3. Cook for another five minutes and keep aside.
Prepare Modak:
1.In a deep dish, boil water with ghee. Add the salt and flour. Mix well.
2.Cover the dish and cook till its half done.
3.Spread some ghee on the base of a steel bowl and while the dough is still hot, knead it well.
4.Now take a little dough, roll it into a ball, flatten it well, shape the edges into a flower pattern.
5.Put a spoonful of the filling onto the dough and seal it.
6.Put the dumplings in a muslin cloth and steam them for 10- 15 minutes. Serve.
Credits : https://food.ndtv.com
Aug 26, 2022

Category:

Recipes
Comments: 0