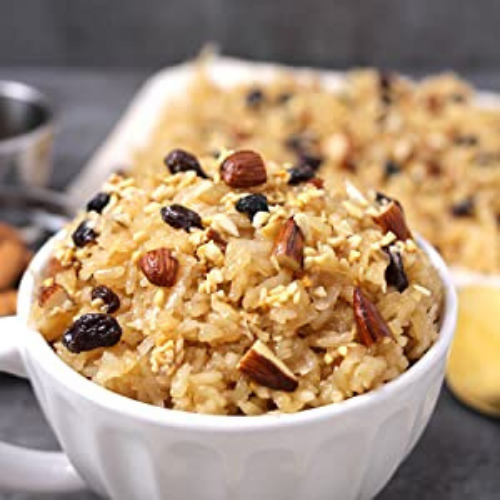 India Bazaar understands the need of its customers to get the best recipes, that is why we have curated a list of recipes that you will love!
Click here to check out our recipe page
. We have an exclusive
 Jaggery Rice 
recipe that you need to try! Read the recipe below.
------
-
Ingredients Needed:
Method:
Step1 :
To prepare this delicious dessert, first wash the rice 4-5 times and soak for about 15-20 minutes. Then put a deep-bottomed pan on medium flame and add water in it. Bring it to a boil and add soaked rice in it along with cloves. Let the rice cook until they are tender and firm. When the rice are cooked, drain the water properly.
Step 2 : Melt ghee and add jaggery
Now, put a saucepan on medium flame and melt ghee in it. When the ghee is hot enough, add the jaggery powder. If you do not have jaggery powder available, you can simply cut the jaggery in pieces and add it in the pan. This will take a little longer time, but will give you the same taste.
Step 3 : Mix all the ingredients and cook
Step 4 : Relish!
Garnish with almonds and nuts. Serve hot.
Jun 06, 2022

Category:

Recipes
Comments: 0