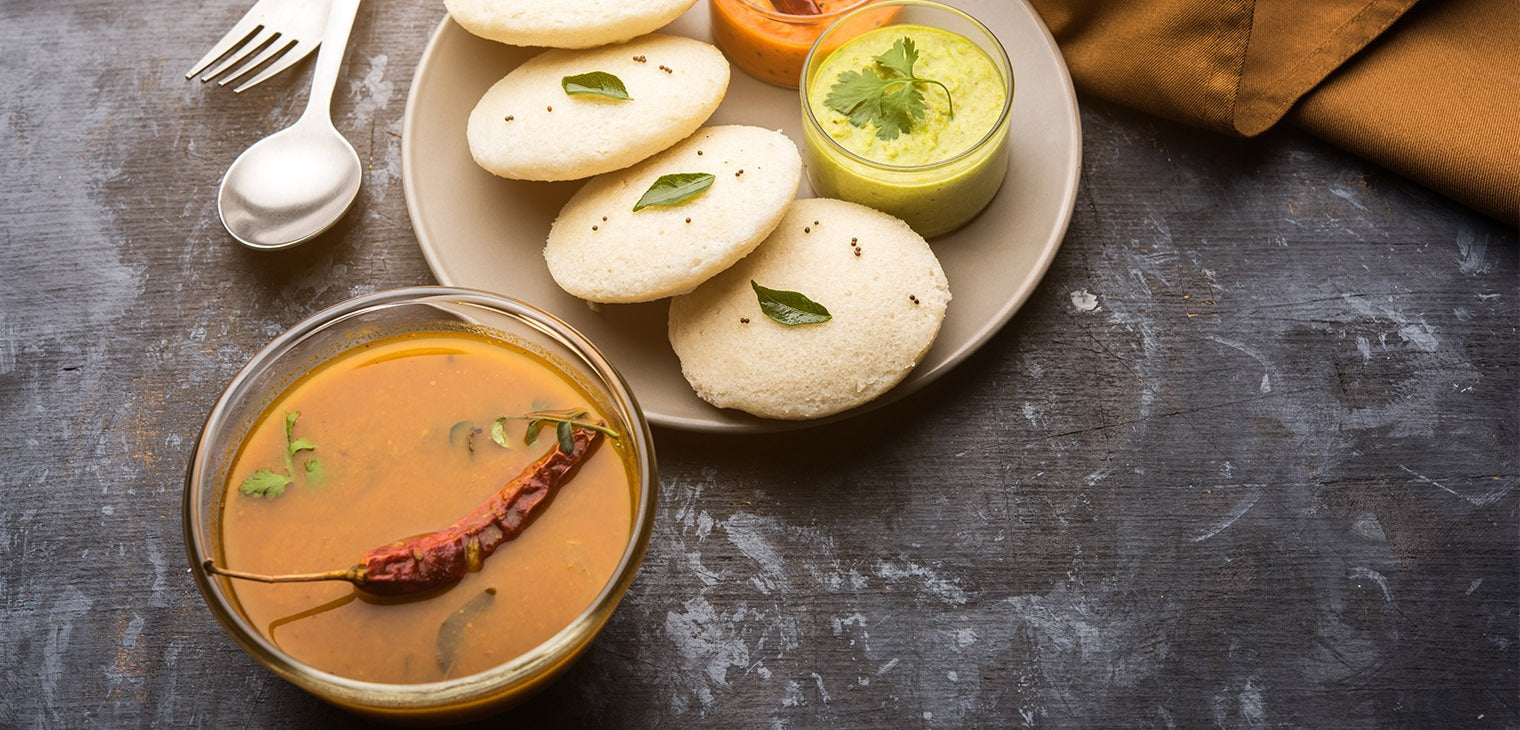 Idli Sambar
Few food combos bring comfort to the heart such as having Idli Sambar. A staple South Indian breakfast, this dish adds a healthy dose of veggies along with carbs and protein to kick start your day on a positive note.
Kanchipuram Idli - Steamed semolina cakes
Vegetable Oil - 2 tbsp

Semolina - 1 cup

Yoghurt - ½ cup

Mustard Seeds - ½ tsp

Cumin Seeds - ½ tsp

Split Bengal Gram (Chana Dal) - 1 tsp

Curry Leaves - 10

Dried Red Chile Pepper - 1

Cashews, broken  - 1 tbsp

Ginger - 1 tsp

Green Chile Pepper, chopped - 1tsp

Asafoetida (Hing) - ¼ tsp

Carrots - 2 tbsp

Salt to taste

Fruit Salt - 1 tsp

 
Directions
Over a medium-low flame, warm vegetable oil in the pan. Sauté the mustard seeds, cumin seeds, and chana dal for a brief period of time. Add the curry leaves, dried red chilli, cashews, ginger, green chilli peppers, and hing. Sauté for 3 to 4 minutes more, or until the cashew nuts start to develop a light brown colour. Next, add in the Semolina. Gently, stir the semolina over a simmer until lightly browned. Transfer the mixture to a platter and cool fully for about 10 minutes before moving to the next step.
Mix in the yoghurt and carrot to the mixture. To achieve the correct consistency, add water as necessary. Then add salt to the dish. Cover and set aside for 15 minutes. Recheck the batter's consistency and, if necessary, add more water.
Prepare the idli pan by greasing it. Get your steamer ready by boiling water in it. In the meantime, thoroughly combine the batter with the fruit salt, then pour the batter into the prepared idli pan. The idlis need to be steamed for approximately ten minutes. Check the pan once to see if done, else give it a few more minutes. Serve the idli after removing them from the pan.
Sambar - Vegetable and Lentil Stew
Toor Dal (Pigeon Peas) - 2 cups

Onion, Chopped - 1

Tomato, Chopped - 1

Pumpkin, Peeled and Chopped - 1 cup

Okra - 1 cup

Peas - ½ cup

Radish, sliced - ½ cup

Vegetable Oil - 1 tbsp

Mustard Seeds - 1 tbsp

Garlic Cloves, Sliced - 6

Red Chile Peppers - 4

Dried Curry Leaves - 2 tbsp

Sambhar Powder - 1tbsp

Tamarind Pulp - ½ cup

Red Chile Powder - 1 pinch

Salt to taste

Water - 6 cups
Directions
In a pot, combine the water and toor dal with the onion, tomato, pumpkin, okra, peas, and radish. Bring to a boil, lower the heat, and simmer for 30 to 40 minutes, or until the dal and the vegetables begin to soften.
In a small saucepan, heat the oil over medium heat and add the mustard seeds. Add the curry leaves, garlic, red peppers, and sambar powder after stirring. Cook for about 5 minutes, or until aromatic.
Add the oil mixture to the stew. Cook the stew for an additional 25 to 30 minutes after stirring in the seasoned oil mixture. Add salt, red chile powder, and tamarind to finish.
You can find the best quality Sambhar Masala at India Bazaar. Go old school with MDH's Sambhar Masala. And if you are looking to cook Jain Sambhar, simply remove the onion and garlic from the recipe and use Satvam's Sambhar Masala.
Jul 23, 2023

Category:

Recipes
Comments: 0