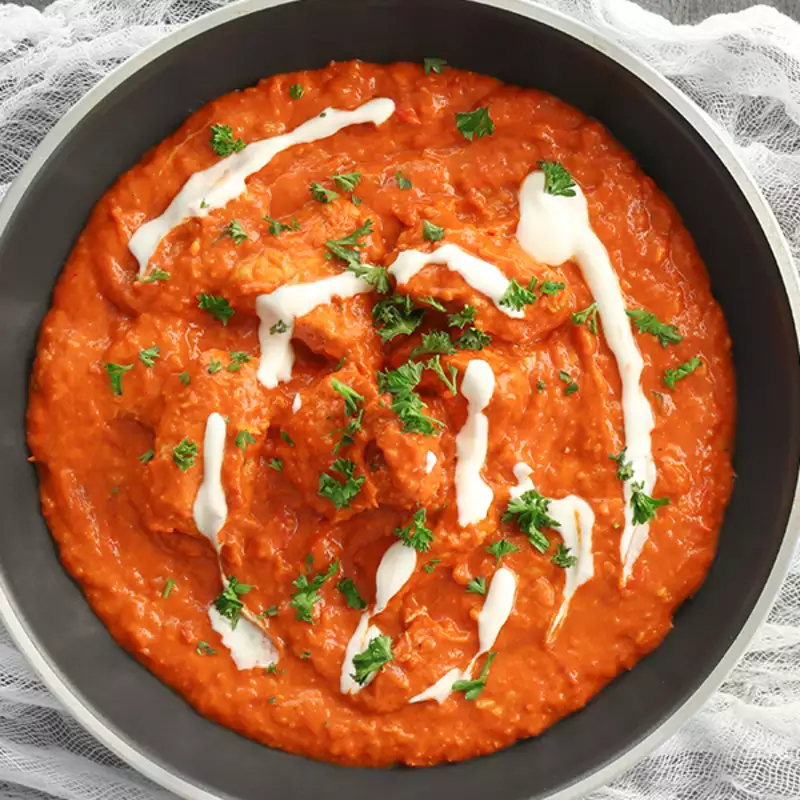 Butter Chicken is one of the most popular Indian dishes. It is a full flavored dish that complements the chicken well. It can be made as mild or spicy as you wish by adjusting the cayenne pepper. Serve with basmati rice and/or naan bread.
Prep: 10 mins Cook: 25 mins Total: 35 mins Serves: 4
Step 1
Heat 1 tablespoon oil in a large saucepan over medium high heat.  Saute chopped onions until soft and translucent.  Stir in 2 tablespoons butter, 2 teaspoons lemon juice, 1 tablespoon ginger-garlic paste, 1 teaspoon of garam masala, chilli powder, ground cumin, ¼ teaspoon of ground methi seeds and 1 bay leaf. Cook, stirring, for 1 minute. Add 1 cup of tomato puree, and cook for 2 minutes, stirring frequently. Stir in ¼ cup of heavy cream and yogurt. Reduce heat to low, and simmer for 10 minutes, stirring frequently. Season the sauce with salt and pepper. Remove from heat and set aside.
Step 2
Heat 1 tablespoon oil in a large heavy frying pan over medium heat. Cook chicken until lightly browned, about 10 minutes. Reduce heat, and season with 1 teaspoon garam masala and cayenne pepper. Stir in a few spoonfuls of sauce, and simmer until liquid has reduced, and chicken is no longer pink. Stir cooked chicken into sauce.
Step 3
Mix together ¼ cup of finely ground cashews and water, then stir into the sauce. Cook for 5 to 10 minutes, or until thickened.
May 05, 2021

Category:

Recipes
Comments: 0