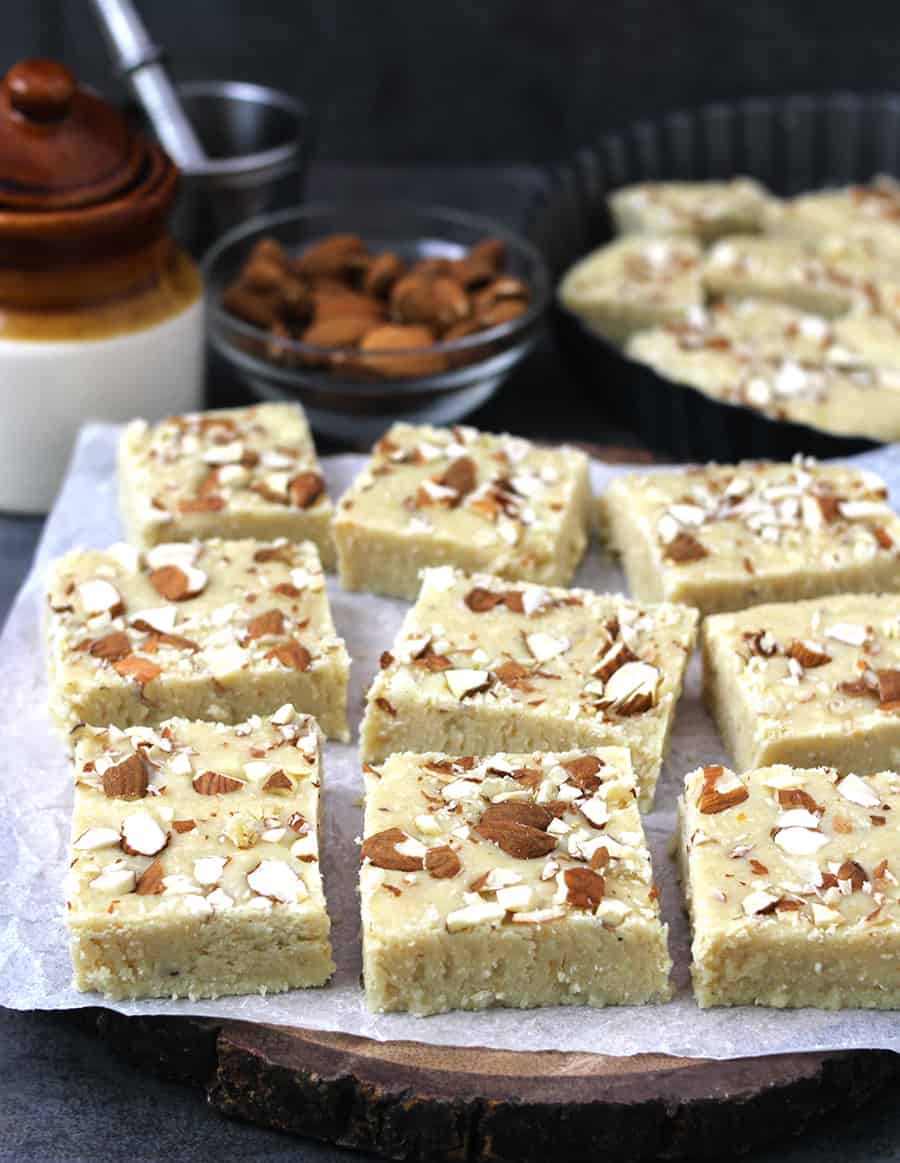 India Bazaar understands the need of its customers to get the best recipes, that is why we have curated a list of recipes that you will love!
Click here to check out our recipe page
. We have an exclusive
Milk Barfi
recipe that you need to try! Read the recipe below.
------
-
Milk Barfi or Milk Burfi is a super delicious, easy to make, melt in mouth Indian sweet or fudge recipe prepared using 5 ingredients in less than 30 minutes. A perfect sweet to make on Diwali, Navratri, Holi, Christmas or any special occasion.
Instructions
Step I
Heat ghee in a pan. If you are using butter, heat till it melts and becomes light golden in color.

Add whole milk and bring it to boil on low flame. Keep stirring to prevent it from burning at the bottom.

Once you see the milk start bubbling add the milk powder in increments of 3/4 cup and keep whisking while adding so that there are no lumps. 

Continue stirring this on low flame for 2 to 3 minutes.
Step II
Add sugar and mix everything together. Continuously keep stirring on low flame for exactly 10 minutes till the mixture forms like a ball or dough and ghee starts separating from the pan.  (Check tips)

Add cardamom powder, mix and switch off the flame. 
Step III
Transfer this mixture to a greased plate or pan. Smooth with back of spoon or spatula. 

Garnish with nuts and press gently with spatula. Let this set for about 1 1/2 to 2 hours. Once it sets cut them into desired shape. 

Milk Burfis or Barfis are now ready. Store in air tight container for 5 days or in refrigerator upto 2 weeks. 
Recipe Notes
See that the entire process of making burfis is done only on

 

LOW FLAME.
I took exactly 10 minutes to cook on low flame once I added sugar. The time may vary a little here and there depending on the type and size of pan you use and the intensity of the flame. 
To check if it is done, take a small piece of the mixture and in a minute or so try to roll it to from a ball. If you are able to do it, it means the barfi is done. It's time for setting it 🙂
You can use any nuts of your choice or edible silver (vark) if desired. 
If your burfi doesn't set,  it means you have under cooked the mixture.  Put the mixture back on heat, cook for few more minutes till it leaves side of the pan and now set it again.
Cooking for longer time or over cooked mixture makes your barfi chewy which you would want to avoid.  Removing the mixture at right time is the key.  Best way to master it is to try with small batch first like any other Indian mithai.
Credits: https://www.cookwithkushi.com
Mar 28, 2022

Category:

Recipes
Comments: 0