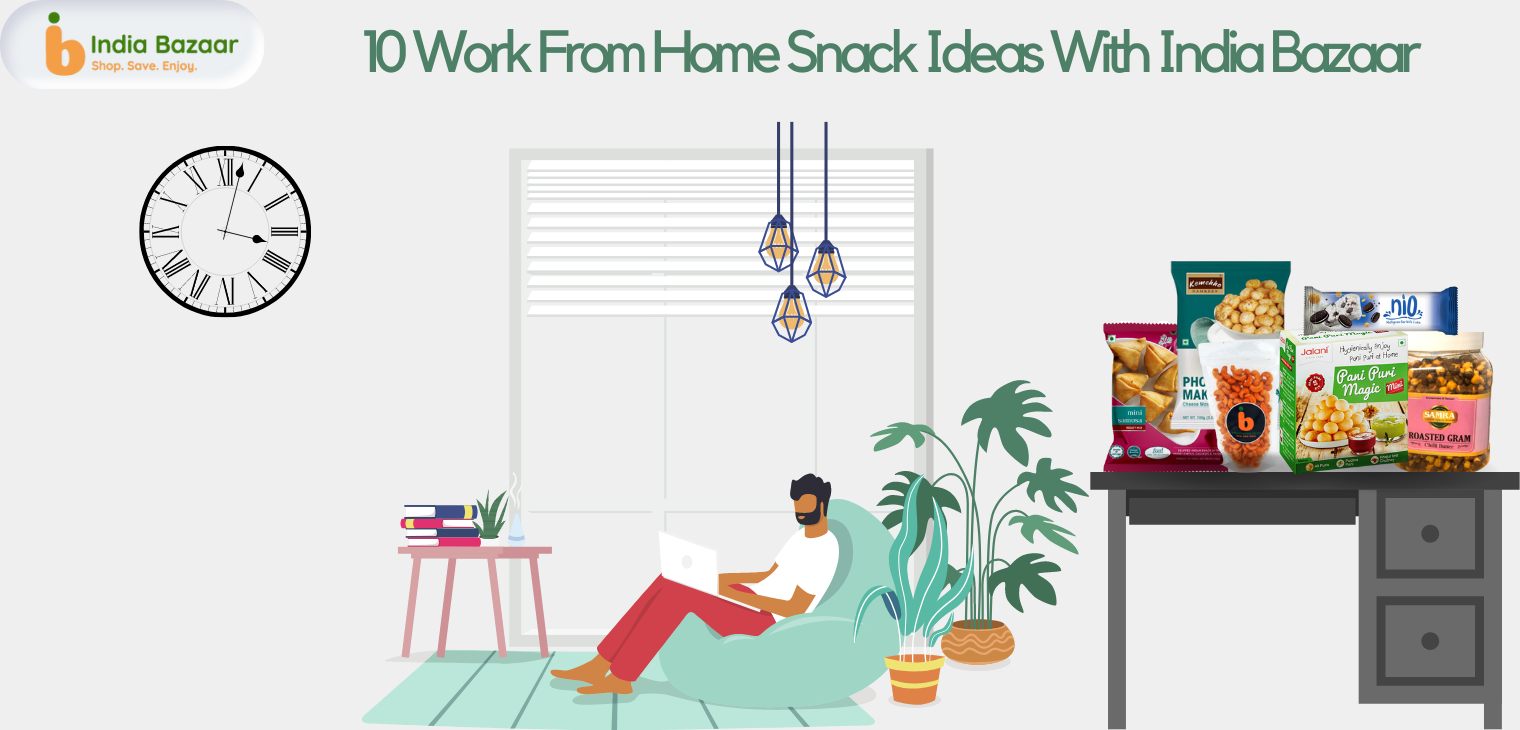 India Bazaar is South Africa's largest Indian grocery online store with an eclectic collection of Indian products online. We believe in serving our customers with the best Indian grocery along with the best shopping experience.
India Bazaar is known for its wide variety of products in various categories. However, the most loved one till date by our customers have been the snacks & sweets section. With Work from home becoming the new normal, an easy snack for work is never far away. But having healthy snacks for work to munch on not only helps you stay energised and productive but also helps to avoid overeating and staying healthy while working from home.
Here are some home snack ideas, including some you can batch cook on the weekend, for healthy snacks to have on hand for you to keep happily munching as you work from home.
These make for a great healthy snack idea for adults as well as kids while working from home. What's more, both foods are loaded with fiber, healthy fats and protein that can help with your work from home nutrition.
Click here to check out the complete Dry Fruits & Nuts range
Roasted chana are a non-perishable snack that's high in protein, fiber, and several vitamins and minerals.They can also make a great no fridge healthy snacks for work.
Click here to check out the complete roasted chana range
Keeping Cereal Bar packets handy at work is a great way to stay prepared with a good mid lunch snacks for work. Cereals are high in energising carbs and soluble fiber, which has been shown to help lower cholesterol levels and improve heart health.
Click here to check out the complete cereal bar range
Roasted pumpkin seeds are a portable and shelf-stable snack that you can keep at your desk as a work from home snack box. They're also high in the immune-boosting mineral zinc.
Click here to check out the complete pumpkin seeds range
Popcorn is a nutritious and satisfying snack to have at home during quarantine as well as during a mid meal since it's high in fiber and low in calories. You can make your own popcorn with the seasonings of your choice with India Bazaar.
Click here to check out our popcorn and popcorn seasoning range
When you need a little boost, biscuits & cookies with a cup of instant flavored tea just hits the spot. Give yourself a fun and delicious break and indulge in the wide variety of tea and biscuits from India Bazaar. You can also check out our Authentic Indian Masala Chai Recipe
Click here to check out the complete Biscuits & Cookies range
No lists of snacks can be completed without mentioning everyone's favorite Maggi. It's one of the quick options when you think about what to eat for lunch at home easy. But what if we tell you that now you can also have Maggi with a twist of Indian Bhel. Check out our Maggi Bhel Chat – 10 Minutes Indian Snacks Recipe to learn more.
Click here to check out the complete Maggi range
Makhana is rich in calcium, protein, carbohydrates, phosphorous, iron, thiamine and zinc. You can either buy the ready-made packets or roast it at home and spice it up the way you want. They are the saviors to your hungry soul whenever you want a light and nutritious snack.
Click here to check out the complete Makhana range
Finally the word everyone was waiting to hear is here.."PANI PURI". This packet of wonder is a complete pani puri kit for you to enjoy the famous Indian street food at the hygiene of your home.
Click here to check our hero product the jalani pani puri
You may reward yourself with these bite-sized golden triangles stuffed with a spicy flavorful filling every once in a while (We all need that cheat day after all). These miniature versions of India's favourite snack is an explosion of flavor waiting to happen !
Click here to check out the complete Samosa Range
We are offering Whatsapp Ordering system, where you can send us your Indian grocery list, and we will convert your groceries into an Indian grocery items list pdf, so that you can go live your best life and leave the groceries on us, we will make sure that your groceries are delivered on time, and your shelves are never empty!
Mar 07, 2022

Category:

Blog
Comments: 0