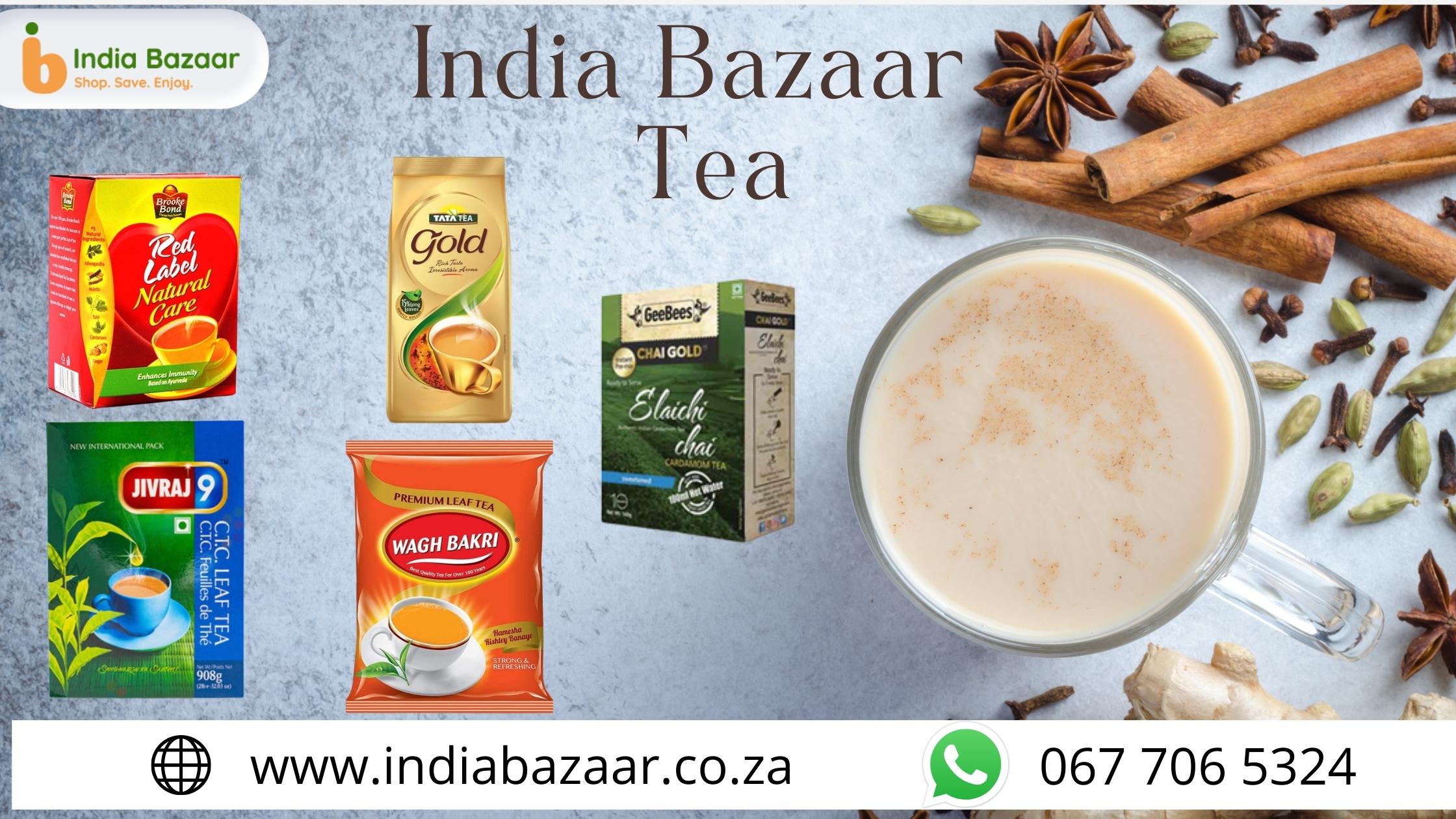 India Bazaar is the leading Indian grocery online E-commerce store for Indian products. You can get everything you need with a click of a button, and voila! Your groceries will be delivered to your doorstep by the best Indian grocery online store! We also have a few customer favorites that you will love, such as our famous tea range. Read below to get to know about our range of teas and their benefits. 
Chai Gold is one of our leading products that our customers love! The flavors range from Ginger, Elaichi, Masala Tea to the unique and tasty Lemongrass tea. These flavors of Indian Chai have multiple Benefits! These teas contain antioxidants that can help your body fight health conditions such as cold, cholesterol, fever as well as blood pressure. India Bazaar offers you this delicious masala tea powder that you can buy online and get the best chai tea mix recipe!
Click here to check out our Chai Gold Tea Range 
We have multiple tea varieties from the extremely prestigious and famous tea brand, known as Tata Tea. Check out our assorted range of Tata Teas, ranging from Tata Tea Gold, Tata Tea Premium, and Tata Tea Agni! Masala chai ingredients contain ingredients such as cinnamon, basil as well as cloves that act as an immunity booster. It is important to keep your health in check at all times. Whether you want to know how to make chai tea with milk or without milk, our teas have you covered, they taste good either way! 
Click here to check out our Tata Tea Range 
Wagh Bakri is a brand of tea products that our customers love! You do not need to look for Indian chai near you, because you can get the best chai tea in South Africa at the comfort of your own home! Wagh Bakri specializes in loose leaf tea all the way from India. As we know that Indian Chai has many Benefits, this Masala tea is great for digestion, as this tea contains ingredients such as ginger and cloves that help your digestive tract stay intact! Check out our range of Wagh Bakri products ranging from Wagh Bakri Instant Elaichi Tea, Wagh Bakri Instant Masala Tea, Wagh Bakri Instant Ginger Tea as well as Wagh Bakri Premium Leaf Tea. 
Click here to check out our Wagh Bakri Range 
India Bazaar understands the need of its customers to get the best recipes, that is why we have curated a list of recipes that you will love! Click here to check out our recipe page. We have an exclusive masala chai recipe that you need to try! A lot of our customers also love our Jivraj tea range, our varieties range from JivraJ 9 Tea Bags to JivraJ 9 Leaf Tea! 
If you are looking for groceries near you with an Indian grocery delivery system that fits your need of finding an Indian grocery store in Johannesburg. India Bazaar is the perfect solution for your need for an Indian online grocery store in South Africa. 
We also specialize in a Whatsapp Ordering delivery system, where you can send us your Indian grocery list, and we will convert your groceries into an Indian grocery items list pdf, which will help you stay up to date with your grocery shopping! You do not need to rush to your nearest Indian grocery store, because India Bazaar will deliver all of your needs to your doorstep! 
We aim to be the
best online Indian grocery
in
Johannesburg, Pretoria
as well as the whole of
South Africa
!
Feb 15, 2022

Category:

Blog
Comments: 0