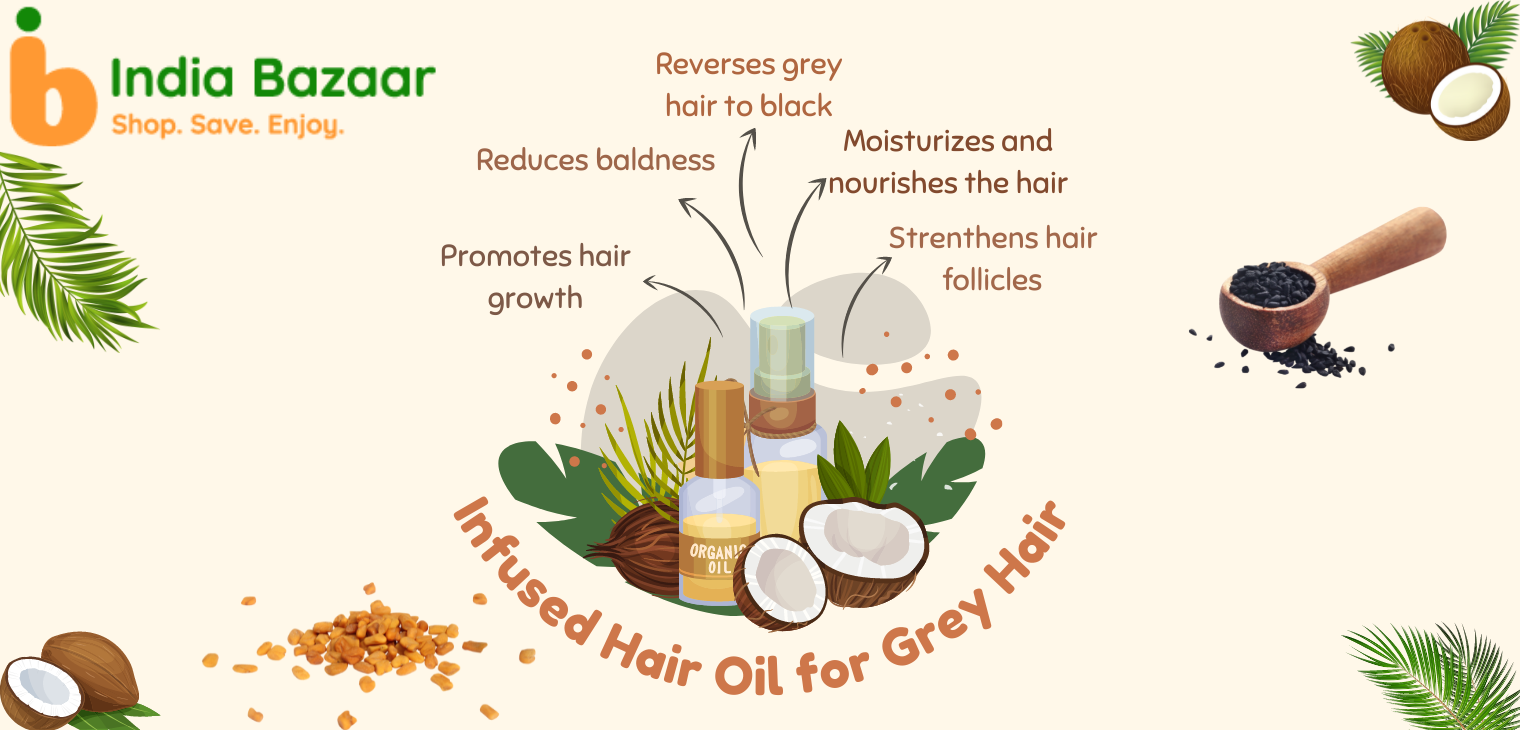 India Bazaar is South Africa's largest Indian grocery online store with an eclectic collection of Indian products online. We believe in serving our customers with the best Indian grocery along with the best shopping experience.
Today we want to talk about concerns related to premature grey hair and some DIY hair oil for grey hair home remedy to turn grey hair into black permanently naturally unless you have an underlying health condition, which needs a doctor's supervision.
Graying is an unavoidable part of the process of aging. But, if your hair begins to gray before you reach your thirties, one must start looking out for the best hair oil for grey hair to black hair, which can either be homemade hair oil for grey hair or ayurvedic hair oil for grey hair in South Africa as they're the safest options without any side effects.
This DIY homemade hair oil includes black seed, fenugreek seed , castor oil and coconut oil for grey hair.
Benefits:
Black Seeds / Nigella Seeds / Onion Seeds also known as Kalonji encourages the growth of hair, reducing baldness, reversing hair loss as well as encouraging hair to retain their pigment cells, rather than losing pigment and turning grey. High fatty acid content of the oil makes hair soft and moisturised.
India Bazaar is the perfect place for you to buy black seed and black seed oil in South Africa at the best price.
Cllick here to check out the complete range of Black Seeds
Methi Seeds / Fenugreek Seeds are rich in medicinal properties, protein, vitamin C, Iron, potassium, that ensures no premature grey hair.
India Bazaar has the perfect quality of fenugreek seeds to buy in Johannesburg, Cape Town and the other parts of South Africa.
Click here to check out the complete range of Fenugreek seeds
Castor Oil is rich in Ricinoleic acid content, which results as the best oil that helps for fast hair growth. This oil has moisturizing properties, which could help lubricate the hair shaft, increasing flexibility and decreasing the chance of breakage.
Click here to check out the complete range of Castor Oil
Coconut Oil is also one of the best oil for hair that stimulates hair growth. Regular application of this oil has shown results to increase hair growth. This magical oil has a property of getting infused with the goodness of other oils and seeds and thus we are using it in this concoction.
Click here to check out the complete range of Coconut Oil
Infused Hair Oil Preparation:
Ingredients:
Method:
Add the Kalonji seeds into a mixer jar and make a powder of it (Make sure the Mixer Jar is completely dry as moisture might spoil the whole batch of this infused oil). Take it out in a bowl and keep aside
Add the Methi Seeds into the mixer jar and make a powder of that too. We are grinding the seeds separately as sizes of the seeds vary and the grinding them together might not result in a smooth consistency.
Mix both the powders together in a bowl.
Take a glass container or a bottle that's clean and dry.
Add the coconut oil and castor oil and mix well.
Now add the seed mix powder into the oil mixture and mix well.
The oil has to be left out under the sun at least for 7 days for imbibing the infused benefit of the oil.
Usage:
Massage the oil into your scalp and on your whole hair and leave it overnight. Next day you can wash your hair with your regular shampoo and conditioner. Follow this process at least 2-3 times a week for maximum benefits.
We are offering Whatsapp Ordering system, where you can send us your Indian grocery list, and we will convert your groceries into an Indian grocery items list pdf, so that you can go live your best life and leave the groceries on us, we will make sure that your groceries are delivered on time, and your shelves are never empty!
Mar 03, 2022

Category:

Blog
Comments: 0